The A2003 reader controller is the main system unit designed to run standalone.
This unit is responsible for storing data for access control (list of users), maintaining the history-logs of the events of the system, allowing or denying access based on the defined settings and provides a web interface for configuration of the entire system.
It communicates with the auxiliary through a standard RS485 bus.
It fully supports Vigiplus thus allowing its integration in advanced projects.
It also provides the function of instant image capture (snapshot) controlled by the tagging events from IP cameras that incorporate this feature.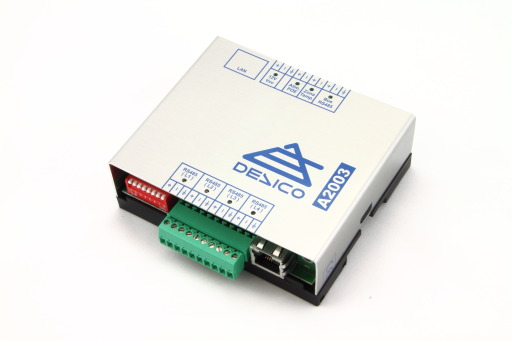 Each A2003 equipment supports up to 32 x A2003L door-modules, or 16 x A2003L2F*.
*The number of access points is unlimited while having IP addresses for each A2003
The A2003 controller comunicates with control software through Ethernet RJ45 10/100Mbit port.
The A2003 controller incorporates 4 RS485 ports allowing a star output topology to A2003L/A2003L2F door modules. Door modules can also be linked by daisy chain type wiring up to 32 module addreses in total, between the sum of the 4 output RS485 buses.
12Vcc
Power over Ethernet (PoE)
Tamper Zone
Auxiliar RS485-Bus activity
RS485-Bus activity (L1) A2003L module
RS485-Bus activity (L2) A2003L module
RS485-Bus activity (L3) A2003L module
RS485-Bus activity (L4) A2003L module
Powered by 12-VDC external power, with a maximum consumption of 350 mA.
ADDITIONAL CHARACTERISTISCS
SMD technology.
High-capacity solid state memory.
Possibility of PoE incorporated.
Stand-alone.
Compatible with Vigiplus.
Event-driven image capture via http.
Input for NC opening sensors (Tamper).
LED Indicators for diagnosis during startup.
Compact design for easy installation on standard DIN rail
The base of the equipment is provided with a locking with spring force for assembly on standard DIN rail.
CAPACITY

Number of Users


Up to 25,000

Number of Events

Up to 100,000

Number of Schedules

Hasta 64 de 7 días + Festivo

Number of Holidays

Up to 20

Image Capture

Up to 2 cameras different IP (JPEG of max. 32k)
A2003L/A2003L2F Door module


Up to 32/16

Type of Control Bus

RS485 Bus

A2003 Access controllers


Tipo de enlace

Ethernet RJ45 10/100Mbit

ELECTRICAL

Maximum consumption

350 mA

Power

12 ±2 Vcc or POE


COMMUNICATIONS
CONTROL BUS

Installation

Cable approved for RS485, ANSI EIS/TIA-485 compliant, on Shielded Twisted-Pair (STP) Cables, 0.35 mm section and low capacity (40 to 60 pF / m).

Connection

3 1.5-mm pluggable terminal blocks.

PHYSICAL

Dimensions (W x H x D)

101,0 x 105,5 x 24,0 m

m

Anchor Type

DIN rail ( 35 mm symmetric )

Weight (including terminals)

102,0 gr

Temperature range

-10 < > +55 ºC

Non-condensing maximum humidity

93%