The D204C module is a communication device that performs the function of distributing and amplifying the control-bus signal in those facilities with special characteristics that require it, taking into account the restriction of not installing more than three segments in cascade.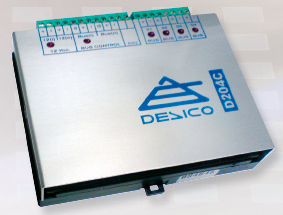 Each module can distribute the control bus in four branches called BUS1 to Bus4, increasing the bus distance up to 600 m from the control module to the distributor / amplifier and 600 m from the expander / distributor module to the substation.
The system allows to fix the distribution units with a maximum of three links in cascade, allowing to mix copper and fibre bus distributors.
It operates on 12-Vdc external power, with a consumption of 20 mA when in standby mode and a maximum consumption of 25 mA.
The bottom of the equipment is prepared for easy installation on a DIN-standard mounting rail. The connection is made via pluggable terminal block.
CAPACITY

Distribution / Amplification
To 4 control buses
Direct. occupation of Substation

0

ELECTRICAL

Nominal power consumption in standby

20 mA

Maximum consumption

25 mA

Power

12 ±1 Vdc

COMMUNICATIONS
CONTROL BUS

Installation

Cable Homologado para RS485, según norma ANSI

Cable approved for RS485, according to ANSI EIS/TIA-485, on Shielded Twisted-Pair (STP) Cables, 0.35 mm section and low capacity (40 to 60 pF / m).

Connection
3 1.5-mm pluggable terminal blocks

PHYSICAL

Dimensions (W x H x D)

101,0 x 105,5 x 24,0 mm

Anchor Type
DIN rail ( 35 mm symmetric )
Weight (including terminals)

121,6 gr

Temperature range

-10 < > +90 ºC

Non-condensing maximum humidity

90 %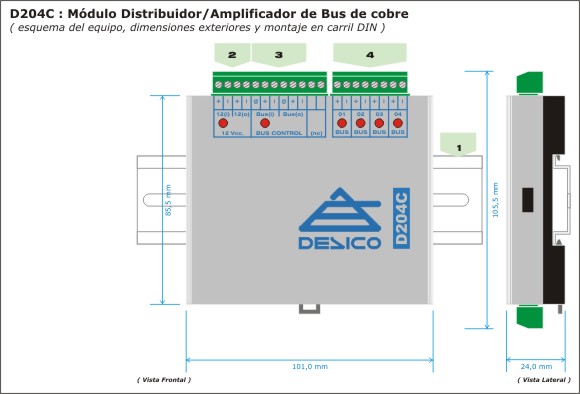 (1) INSTALLATION
Installation onto DIN-standard mounting rail with spring anchor.
(2) POWER SUPPLY
External 12 VDC.
Consumption 25 mA.
Low-voltage alarm.
Analogue telemetry.
(3) CONTROL BUS for ZONE MODULES
Connection bus of the substation input / output modules.
Automatic disconnection in case of failure.
Remote on / off switch.
(4) DISTRIBUTOR / AMPLIFIER
Control-Bus Amplifier up to 4 buses of 600 mts.
Maximum distance to the substation: 600 mts.
Maximum distance to the control module: 600 mts.
Maximum 3 units in cascade.Remote on / off switch.