F0112 is a monitored linear-mode power-supply for VIGIPLUS equipment. It consists of a 13.5 V/3A controller separated into two 13V / 1.5 A outputs for powering the equipment of the system and of a V/2A 13.5 output for the battery charger with float charge.
It has fuse protection for each output, with tell-tale with LED indicator lamps and indication of voltage and power output limitation.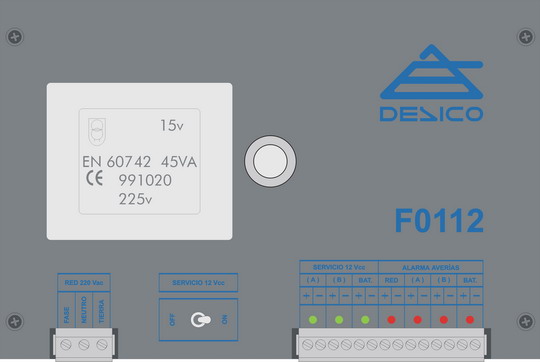 F.A. 12 V: 12 Vdc output-status LED and battery.
Failures: LED indicators: power failure, power supplies of 12 Vdc and battery charger
There are four alarm outputs of the corresponding failures, for remote monitoring and of the equipment.
Input: 220 VAC 48-62 Hz
Dissipated power: 35 Watt.
The unit comes for mounting on panel or box, bolted with insulating partitions, flat. The connection is made using two separate strips, one for inlet and one for outgoing connections.
CAPACITY

Source Type Switching

Lineal

Output circuit

2

Supply Alarms
Monitored

POWER

Supply

200 Vac

Power

35 W

Supply (2 circuits)

)

12 Vdc 3A

MAIN CONTROLLER

Output voltage

13,5 Vcc

Service output current

1,5 A

Short-circuit current

0,2 A

Ripple

<1 mVrms

BATTERY CHARGER

Output voltage

13,5 Vcc

Service output current

2,0 A

Short-circuit current

0,4 A

Ripple

<10 mVrms

PHYSICAL

Dimensions (W x H x D)

210,0 x 140,0 x 70,0 mm

Anchor Type
Bolted to back of closet
Weight (including terminals)

1,640,0 gr

Temperature range

-10 < > +90 ºC

Non-condensing maximum humidity

90 %