The F2012 switch-mode power supply consists of a 13.5 V / 1.8 A regulator for powering the equipment of the system and of an output for the battery charger with float charge.
It also has fuse protection for each output, with tell-tale with LED indicator lamps and indication of voltage and power output limitation.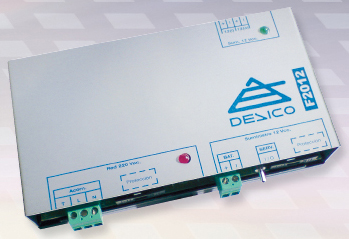 F.A. 12 V: 12 Vdc output-status LED and battery.
Failures: LED indicators: power failure, power supplies of 12 Vdc and battery charger
Input: 220 VAC 48-62 Hz
Power: 25 Wat.
The unit is installed onto DIN RAIL by clip into the plastic base. The connection is made through three sets of pluggable terminal blocks: 220-Vac Power, 12 Vdc for powering batteries, and 12 Vdc for powering the equipment.
| | |
| --- | --- |
| CAPACITY | |
| Source Type | Switching |
| Output circuit | 1 |
| | |
| POWER | |
| Supply | 200 Vac |
| Power | 25 W |
| Supply | 12 Vcc 1,8 A |
| | |
| MAIN CONTROLLER | |
| Output voltage | 13,5 Vcc |
| Service output current | 1,8 A |
| Short-circuit current | 0,2 A |
| Ripple | <100 mVpp |
| | |
| BATTERY CHARGER | |
| Output voltage | 13,5 Vcc |
| Short-circuit current | 0,4 A |
| | |
| PHYSICAL | |
| Dimensions (W x H x D) | 153,0 x 105,5 x 45,0 mm |
| Anchor Type | DIN Rail (35 mm symmetric) |
| Weight (including terminals) | 350,0 gr |
| Temperature range | -10 < > +90 ºC |
| Non-condensing maximum humidity | 90 % |