The I2004 is the right equipment to solve control needs either through an RS-232 link to UDP or via digital inputs and outputs.
It equips a complete RS-232 serial port capable of communicating with 4 different IP addresses configurable using a transparent UDP protocol.
It has 3 shortable relay inputs and 2 relay outputs with isolated contacts suitable for connecting technical signals. Furthermore, the I2004 is fully compatible with Vigiplus by proprietary control protocol.
It includes an embedded web server for its configuration and remote monitoring of states.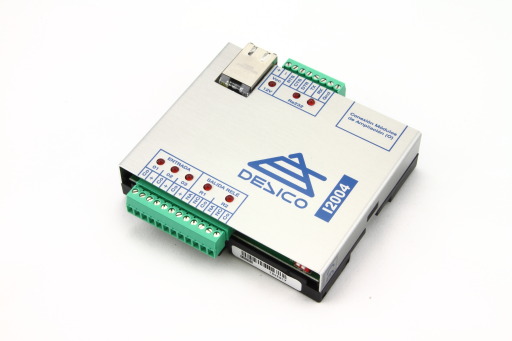 Available with RS485 UART as I2004a
Integrado con el sistema Vigiplus.
Indicadores LED para diagnóstico en puesta en marcha.
Control de relé remoto que replica el estado de una entrada en una salida de otro I2004.
Integrado en Sistema A2003 para activación de salidas vinculadas a accesos.
Interfaz web de configuración avanzada, para todo el sistema.
Servidor UPnP para descubrimiento en red.
Entradas ampliables mediante módulos adicionales, I2005E8 y I2005S8.
Formato compacto para una fácil instalación en carril DIN estándar.
Versión I2004a con bus tipo RS485.