T0101 is a special control keyboard, designed to work with the system VIGIPLUS. The casing is all metal, with open sensor, so it can be considered high security.
It connects directly to the bus that controls the C2000 substation occupying an address and coexisting with the other E/S equipments. Each substation can have as many as possible directions (max. 32).
It is a multifunction keyboard that can be used simultaneously for access control, patrols or control terminal to enable / disable the assigned partition (group of alarm zones).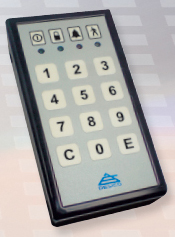 It Interprets personal access codes, which allows to give an order to open the door. For this, it has a control relay and an area for connecting the open-door sensor.
An LED and a buzzer will help to monitor the reading process and subsequent opening of the door or error message, as appropriate.
You can work in sync with A0102 reader drivers, assimilating the card user to the manual security code to access by keyboard. This will allow to store in a history log all accesses made via a password allocated to a person, regardless of the type of protection of the door.
The Patrol function can be used as a Patrol point of VIGIPLUS system. To do this, when the system orders a Patrol, it will place the assigned keyboard as the next point, in "Patrol" mode, will light the corresponding LED and certain user codes will be interpreted as "Patrol-point crossings", turning off the LED as a sign of complete process.
TOGGLE-PARTITION FUNCTION
Some codes can be used to toggle alarm-zone groups (partitions) on/off from the substation to which they are connected. This function is independent from VIGIPLUS system; in fact orders from authorized keyboards have priority, being immediately executed and only later reported to the computer for the seek of information. If the computer is not available, the data will be kept in the memory of the substation until the communication is restored.
All keyboards assigned to the same partition work in sync, ie if the order is given from one of them, the others will be aware of the new status, changing all the LED which monitors the partition. So as to execute the order to enable or disable partitions, each keyboard has a timed input area.
A silkscreen-quality and waterproof keyboard with 12 numeric and function keys, as well as LEDs that indicates the status of the module:
• Access validation.
• Patrol-point indicator.
• Monitoring of the status of the partition.
• Indication of erroneous operation.
The plastic bottom of the device has holes for bolting to the surface. The connection is made via pluggable terminal block.
| | |
| --- | --- |
| CAPACITY | |
| Keyboard serigrafiado with relief | 12 numerical keys |
| Entry of alarm Tamper | 1 |
| Occupation direc. of Substation | 1 |
| Máx. nr. modules for Substation | 32 |
| | |
| ELECTRICAL | |
| Nominal power consumption in standby | 35 mA |
| Power | 12 ±1 Vdc |
| | |
| COMMUNICATIONS | |
| BUS de CONTROL | |
| Installation | Cable approved for RS485, according to ANSI EIS/TIA-485, on Shielded Twisted-Pair (STP) Cables, 0.35 mm section and low capacity (40 to 60 pF / m). |
| Connection | 3 1.5-mm pluggable terminal blocks |
| | |
| PHYSICAL | |
| Dimensions (W x H x D) | 66,0 x 125,0 x 25,0 mm |
| Anchor Type | Surface screwed |
| Weight (including terminals) | 635,0 gr |
| Temperature range | -10 < > +90 ºC |
| Non-condensing maximum humidity | 90 % |