The Local Monitoring Terminal TD1001 is composed of a display and a keyboard for system self-management. It works integrated with the intelligent Substation connected to the R-S485 keyboard bus. You can simultaneously connect up to 8 keyboards per Remote Station.
The information displayed and its operation is consistent with the monitoring system VIGIPLUS. When both are installed, you can operate indistinctly from any of them. In case of computer or control-bus failure, the terminal continues to operate and saving the events recorded in the memory, which will be sent to central control when it is active.
Its use is indicated in those cases that require either additional security as regards to operation or local supervision of autonomous areas integrated with the Central Control.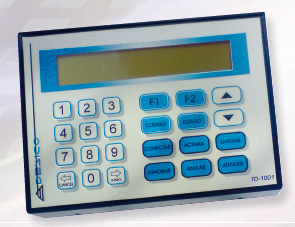 Each substation supports up to 8 modules of this type, although they can be mixed with the 4-zone ones. The capacity of each is:
Alarm Management: Of "Aware - Attended" type, as in the Central Control.
Query: Query for list of the status of the areas.
On/Off: To activate, disable, connect and disconnect areas.
Acting Relays: To action on the output relays.
S.O.S.: Panic button.
Access Control: It connects to the system via access code.
It works with external power supply 12VDC, with a consumption of 90 mA. when idle and a maximum consumption of 120 mA.
The terminal has an LCD display featuring 4 lines of 40 characters each with backlight and a silkscreen-quality and waterproof keyboard with 24 numeric and function keys.
The plastic bottom of the device is equipped with holes for bolting to the surface. The connection is made via socket strip.
| | |
| --- | --- |
| CAPACITY | |
| Silkscreened keyboard | 24 numerical and function keys |
| Backlit LCD display | 4 lines of 40 characters |
| Max. number of modules per Substation | 8 |
| | |
| ELECTRICAL | |
| Nominal power consumption in standby | 45 mA |
| Maximum consumption | 120 mA |
| Power | 12 ±1 Vdc |
| | |
| COMMUNICATIONS | |
| BUS KEYBOARD | |
| Installation | Cable approved for RS485, according to ANSI EIS/TIA-485, on Shielded Twisted-Pair (STP) Cables, 0.35 mm section and low capacity (40 to 60 pF / m). |
| Connection | 2 1.5-mm pluggable terminal blocks |
| | |
| PHYSICAL | |
| Dimensions (W x H x D) | 209,0 x 157,0 x 30,0 mm |
| Anchor Type | Surface screwed |
| Weight (including terminals) | 250,0 gr |
| Temperature range | -10 < > +90 ºC |
| Non-condensing maximum humidity | 90 % |