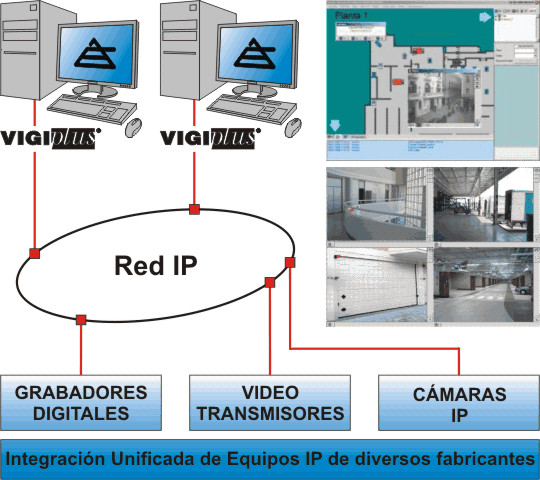 VIGIPLUS integrates any CCTV technology and brand, allowing to command video signals, regardless of the control or switching device, easily performing the following functions:
Set the camera on a monitor.
Activate a sequence in the monitor.
Programme a sequence.
Camera-positioning Control.
Control of focus and zoom of a camera.
Implementation of camera or domo pre-positioning.
Video servers, digital recorders, IP cameras, video transmitters, encoders, decoders, even from different brands can coexist, so that the whole is seen by the user as a virtual matrix, regardless of the source or type of video signal.
The digital-video integration allows having all the video switching traditional features and functions characteristic of a matrix, plus the possibility of the computer displaying the video images imported via IP.
The images can be submitted either live for surveillance or pre-recorded, for which the system has the necessary tools for searching and processing the stored video information.
You can associate a video sequence to the report of an alarm. For this, the system provides adequate management to include, in the most intuitive way, the sequence within the management report of the event.